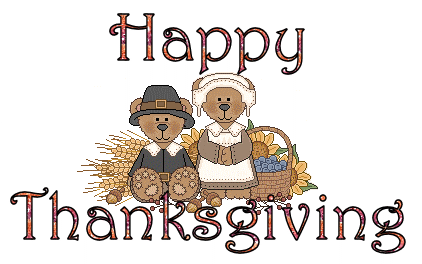 Happy Thanksgiving everyone! This week has been so full of activity and we have only just begun. We finished our Thanksgiving lapbooks (I am going to post those later when I have some time to take some pics.)
Today, I began my baking marathon that will take me the rest of tonight and most of tomorrow. We spend Thanksgiving and Daddy Reg's parents house and the most important thing that I make every year is my
pumpkin pie
. I also am in charge of the apple crisp. This year I took on more though. I am making
cranberry sauce
and sweet potato casserole. I have prepped the pie crusts, cooked the cranberry sauce, prepped the apple crisp topping and the sweet potato pecan topping. I will be finishing up what I can tonight and prepping the dry ingredients for my pumpkin pancakes, a Thanksgiving morning tradition.
Little G (I can't call her a baby anymore now that she is 2) got sick today suddenly. But now I think she is feeling better. She developed a fever quick suddenly and was extremely fussy. Then her stomach decided it wasn't happy and projectile... well you get the idea. Needless to say I spent about an hour cleaning her, me, the carpet, the coffee table (tossing the crayons that were the crayon container on the table. I draw the line at trying to clean and disinfect crayons.) the DVD player and well everything else in its path from the living room to the bathroom. Even Daddy Reg got hit. I sent him for new crayons so the kids could color today. Little G spent most of her day on the couch just sitting there - not normal at all - she usually runs around like a wild child even when she is watching a movie. Tonight she is back to herself. I just rescued her from the top of the couch.
And now I am off to corral the little one again and hopefully start on the next step of baking. And finding my magic wand that cleans the kitchen... just kidding I don't have one.